June 28th, 2021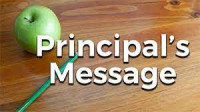 Dear Forest Hill Families:
All of us at Forest Hill hope you're doing well as you continue to work through the difficulties of the COVID-19 pandemic. The precautions, openings and closures, and countless stresses certainly challenged all of us again this school year. More readily available vaccines and continued attention to Public Health advice provide hope for a healthy community and a stable school year to come.
We thank our teachers and staff members who rallied again this year to stay connected with you during and provide engaging learning opportunities for your children. We also thank you, our families and students, for doing staying involved with both in-person and distance learning.
We've missed celebrating the accomplishments of the school year with you in person–especially those of our Grade 6 students as they prepare for Grade 7. We look forward to hearing about the exciting things happening in the Fall, and wish Grade 6 students and families a smooth and positive start in their new schools
As the school year ends, we say a grateful goodbye to Ms. Arnott, Mr. Beg, Ms. Kropf, Mrs. Makrydakis, Mr. Wettlaufer, Ms. Wilson and Ms. Wong as they move to new schools and opportunities. Each of them has been so important to our team and we wish them the best in the coming years. Mrs. Bednarski and Mrs. Orasanin will be on leave from school next year. We'll miss them while they're away and look forward to reconnecting when they return.
We also say goodbye with deep gratitude to our vice-principal Mr. Brian Wiechers, who is retiring after 30 years in education. Mr. Wiechers' initiative, dedication and love for people made a distinct difference to each school he served–and most definitely to our Forest Hill students and school community. We wish Mr. Wiechers many happy adventures and memories ahead!
We're very excited to welcome vice-principal Mr. Kojo Millington in September! Mr. Millington joins us from a Special Education Specialist position in the Peel District School Board. We all look forward to helping Mr. Millington feel at home at Forest Hill!
I would like to make special mention of Mr. Creed, Ms. Kercoban and Ms. Rattan, our Facilities team, who will be hard at work over the summer preparing the school for the new year. Our School Board and Public Health partners will also be planning for September. Please watch the WRDSB and Forest Hill web sites and Twitter feeds for updates in August.
We can't wait to reconnect with you in September and rekindle our relationships that are the foundation of everything good that happens at Forest Hill. Please stay healthy, happy and safe this summer.
Yours sincerely,
Brad Hughes
Principal